3 ways Mikel Arteta masterplan came to fruition
In Arsenal's FA Cup semi-final victory over Manchester City, Mikel Arteta tactically outmanoeuvred his former boss, Pep Guardiola. Here are three ways his masterplan came to fruition.
It was the performance for the ages. After getting lucky against Liverpool three days prior, squeaking out an undeserved 2-1 victory, Arsenal turned in a brilliant counter-attacking display to upset the best team in the world.
Their 2-0 win over Manchester City on Saturday evening in the FA Cup semi-final was a masterplan set out by head coach Mikel Arteta, one that was brilliantly executed by his players.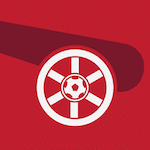 Want your voice heard? Join the Pain In The Arsenal team!
Write for us!
Here are three ways his brilliant gameplan came to fruition.
3. The defensive role of Lacazette
When playing Pep Guardiola's Manchester City, one of the primary issues is the relentless waves of attacks that you have to repel. Because of their brilliant high press and sensational recycling of possession in deeper areas, they invariably dominate possession and will construct attack after attack after attack. Eventually, the pressure builds, a mistake is made, and City pounce.
To stem the incessant City tide, Arteta instructed Alexandre Lacazette to follow Ilkay Gundogan when Arsenal were in a mid-block.
If City beat the initial press, Lacazette would drop even deeper and compact space in the defensive third, but if City were attempting to recycle possession, instead of pressing the centre-backs, Lacazette simply followed Gundogan wherever the German went.
He prevented the lone defensive midfielder from dictating the play and it forced City into longer passes into the final third. Give credit to the Arsenal defenders for dealing with the longer passes excellently. City can sometimes exploit defences in a three-on-threes after Ederson finds one of the front three. Arsenal handled these long passes well, and it all stemmed from Lacazette's positioning to force City to go long.