Arsenal: The Granit Xhaka conundrum
Granit Xhaka will never be Patrick Viera. Is that why so many Arsenal fans don't rate him highly as a player? This is the Granit Xhaka conundrum.
It's been several months since Granit Xhaka threw the captain's armband off and infamously told Arsenal fans to 'F*** off' after a disastrous performance by both player and team versus Crystal Palace. At the time, it looked for sure like he was on his way out of the club.
However, to his credit, both as a player and a person, Xhaka put his hard hat on and found a way back into Arsenal's first XI. It speaks volumes about his character. Unfortunately, legitimate questions about his footballing ability and ceiling as a player remain.
What's more, trying to answer those questions tends to divide Arsenal fans into two camps. Xhaka's fans rave about his superb passing skills and genuinely believe him to be a vital component of Arsenal's first XI. Xhaka's detractors deride him as too slow on the ball and off of it.  Many Xhaka fans respond to critiques of his game with something along the lines of, 'You just hate him because he's not Patrick Viera!'
More from Pain in the Arsenal
The irony of that attack line is there is an element of truth to it. Xhaka is not Viera, and that may be exactly the problem. Viera was, in many respects, the prototypical 21st-century holding midfielder. Standing a full 6'3", he had the height and power of a world-class centre-half. At the same time, he could ping the ball around the pitch like a prime creator. On the rare occasions he was caught out of position, he would just take a couple of long, graceful strides to right himself and snuff out the danger.
He was a fierce as a tiger in the tackle and as graceful as a ballerina when pivoting and transitioning the ball into attack. On top of that, he was a bold leader that commanded the respect of the entire locker room.  For all these reasons, Viera set an almost impossibly high standard for Xhaka (or anyone else for that matter) to uphold in Arsenal's midfield.
That fact alone doesn't render the criticism of Xhaka moot. As a pure passer, Xhaka is a force to be reckoned with, albeit only when he's given enough time to shift the ball to his preferred left foot.  Unfortunately, that is where the comparisons of his game to Viera's grind to a halt. And the more measured critiques of his game are very much on point.
It is an open secret that Xhaka lacks the athleticism required to get himself back into position once he has been circumnavigated. This lack of athleticism is complicated by the fact that he doesn't read the game particularly well either.
Both of those weaknesses are part of why this team melts down late in games so frequently. To be fair, Arsenal's record of conceding points from leading positions is not all Xhaka's fault. At the same time, closing up shop and bossing the midfield in the latter stages of close games is what the world's elite holding midfielders do best. In Arsenal's case, however, as games wear on and he tires, Xhaka can't cover all the space in the middle of the park, which gives opponents more and more cracks at Arsenal's extremely suspect backline.
Mikel Arteta's decision to slide Xhaka over to the left side of the midfield was astute, but it also proves Arteta realizes shielding the backline and tracking runners are decidedly not Xhaka's strong suits. The problem with that is that Xhaka is a central defensive midfielder by trade. Unfortunately, he proved himself so ill-suited for the role that Lucas Torreira was eventually purchased to do what he couldn't.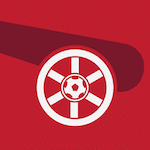 Want your voice heard? Join the Pain In The Arsenal team!
Write for us!
Now the club is linked to Tomas Partey and Danilo Perreira, both of whom are imposing, athletic midfielders cast from the Viera mould. The reason Arsenal are linked to them is that Viera's athleticism and versatility are no longer luxuries but prerequisites for anchoring a modern midfield. It all adds up to make by Xhaka the ultimate tweener.
This leaves Arsenal in a conundrum. Xhaka is as good as he is ever going to get, and yet he is not nearly good enough at the position he is being paid to play. If that weren't true, Arsenal wouldn't be so actively linked to Partey and Perreira now. The ugly truth is, in spite of all the progress he's made under Arteta, Xhaka would be hard-pressed to crack the starting midfield of any of Europe's elite clubs. For proof of that, look no further than the fact that when he wanted out of the club after the armband incident, the only team that came calling was Hertha Berlin.
Next:
Arsenal Vs Liverpool: 5 key players to watch
Yet, for all his weaknesses, Xhaka is easily the best deep-lying midfielder in the squad. He is simultaneously good enough to win with and too good to bench. Therein lies the heart of the problem, one that Arsenal must somehow find a way to solve.