Mikel Arteta system and style at loggerheads
Mikel Arteta wants to control matches. He is also playing a 3-4-3 formation. The Arsenal head coach's system and style are at loggerheads.
In recent weeks, Arsenal head coach Mikel Arteta has shifted gears into a 3-4-3 shape. While he initially stringently stuck with a 4-2-3-1 formation that made the best of Mesut Ozil in the number 10 position, following football's restart, Arteta shifted to a 4-3-3 shape, dropping Ozil, who does not fit the formation.
More recently, Arteta has changed his system again, turning to a 3-4-3 with Sead Kolasinac sliding in as the left-sided centre-back, Kieran Tierney at left wing-back and Granit Xhaka and Dani Ceballos manning the central midfield roles.
More from Pain in the Arsenal
This system can be very successful. Wolves use it brilliantly, as has Antonio Conte, including at Juventus, Chelsea, and now Inter Milan. However, these teams play the system in a very specific way, one that Arteta does not implement.
Chelsea's brilliant 2015/16 title-winning season was a lesson in counter-attacking football. The two wide players were released of defensive duty, cheating their position by a few yards, waiting for a turnover to then explode forward. Meanwhile, the central midfield pairing of Nemanja Matic and N'Golo Kante was workmanlike and industrious, brilliant in the defensive phase but not creative with the ball.
The system was designed around the counter-attack. Close down passing lanes in midfield, lean on the back three, and then explode forward through athletic wing-backs, a lone centre-forward who can hold up the ball in Diego Costa, and two brilliant wide attackers, led by Eden Hazard.
Contrast that style to how Arteta spoke about his team's play in possession in Sunday's 2-1 defeat to Tottenham Hotspur. Speaking in his post-match press conference, the Arsenal head coach said: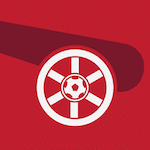 Want your voice heard? Join the Pain In The Arsenal team!
Write for us!
"I am not too concerned about the possession, it's about how we attack the opponent's box, how we generate situations to score goals, the dominance, how quickly we regain the ball, how close we do that to the opponent's goal. It tells you how far we've come to be able to do that in an away ground against one of our biggest rivals. It shows the personality and what the team wants to do and it's going to be a big part of our identity. But we are going to finish that having produced the three points and had the security that we can control and dominate games against any opponent."
His philosophy is entirely different from that of most managers who use the 3-4-3 shape. It also does not suit the system. Arteta wants to control matches, but he has just two central midfielders. He wants to play with width but is relying on the wing-backs to provide it. He wants his team to play out from the back but has Sead Kolasinac and Shkodran Mustafi playing in the wide centre-back roles.
Next:
Arsenal Vs Liverpool: 5 key players to watch
The system is not necessarily the problem. The style is not necessarily the problem either. It is the combination of both. At present, they are at loggerheads, and it leaves Arsenal a rather disjointed team.