The multifaceted significance of Bukayo Saka's shirt number
Bukayo Saka is getting the recognition he deserves, and for good reason. Still only 18, he's a Player of the Season contender for Arsenal, and is fast becoming a fan favorite. He's even under heavy consideration for an England call up. The number 7 shirt might seem like a small reward in comparison, to those achievements, but it's not.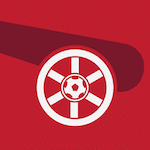 Want your voice heard? Join the Pain In The Arsenal team!
Write for us!
The last truly productive player to wear the No. 7 shirt was Alexis Sanchez, and the fact that Saka is his apparent successor might have something to do with Arteta's plans for the young Englishman. How many number 7's are wingbacks? Not very many.
If Saka's future is at left wing as his new jersey suggests, that could point to other areas of focus in the squad, namely central midfield and center-back. That emphasis may put a damper on some transfer rumors that tend to crop up summer after summer—apparently, Wilfried Zaha is still interested in a move (of course) and Phillipe Coutinho is never far from the discussion.
More from Pain in the Arsenal
And even if Pierre-Emerick Aubameyang is sold, we still have Saka and Gabriel Martinelli, who accounted for almost 30 goals between them this season. Saka is both the present and the future of this Arsenal team, and his change of number is in keeping with that.
And speaking of productive No. 7's, that's exactly what Henrikh Mkhitaryan was not. He is no longer Arsenal's number 7, which means he has no future in North London. That's good news, both for our wage bill and for our on-field productivity. There is plenty of time and space to offload the Armenian—Roma are still interested, and we should take them up on their offer.
The number switch also heralds an increasing focus on youth—Hale End has given the Gunners a glut of incredible youth products of late, and with more waiting in the wings, it makes perfect sense to focus in on the youth prospects, especially those who have earned their first-team prominence.
Arsenal are also doing a good job of continuing the recruitment process, with Sporting Lisbon's 17-year-old Joelson Fernandes high on the list of inbound prospects. Despite stalling contract talks due to a budget restriction that has left the Gunners floundering with a mere £38 million to spend, youth is still the second-top priority, behind positions of immediate need. All in all, Saka's number change seems to come hand-in-hand with a lot of good news for Arsenal fans.
Next:
Arsenal vs Watford player ratings
Now that's not to say that our "Little Chili" has caused all of this; rather, he is indicative of the way Mikel Arteta's Arsenal are trying to move forward and upwards into the future. And if Saka has any say in the matter, the future is bright indeed.