Why Alexandre Lacazette unlocks front three
With Alexandre Lacazette reinstated as the centre-forward, Arsenal's frontline looked the most dangerous it ever has under Mikel Arteta in Tuesday's 1-1 draw with Leicester City. Here is why the Frenchman unlocks the front three.
It is not a surprise that when a fit, firing, and confident Alexandre Lacazette was reinstated to the front three, Arsenal's attack produced their best performance since Mikel Arteta took over as the new head coach.
Lacazette started as the spearhead of the Gunners' front three in Tuesday's 1-1 draw with Leicester City. With Pierre-Emerick Aubameyang searing in from the left flank and a nuanced, clever Bukayo Saka drifting into pockets off the right side, it formed a frightening frontline that caused Leicester all sorts of problems, especially in the first half.
More from Pain in the Arsenal
The trio pulled the Leicester back three all over the pitch. Arsenal's goal came from Saka getting in behind Caglar Soyuncu, then leaving Jonny Evans on the floor with a lovely stop-and-go to slide down the outside, before sliding an inch-perfect cross for Aubameyang to convert at the far post. And the move all stemmed from Lacazette dropping into midfield, pulling the Leicester defensive line up the pitch and creating space in behind for both Saka and Aubameyang.
This combined movement was executed time and again. Lacazette would drop 10 or 15 yards off the Leicester defence, often receiving the ball to his feet, with his back to goal. He would then turn, lay off the ball to a teammate or look to slide a pass himself between the Leicester defenders to release a free-flying Saka or Aubameyang. It was a fluid, free-flowing, frightening front three performance and it all stemmed from Lacazette's superb hold-up work.
While Eddie Nketiah is challenging the Frenchman for his place in the starting XI, the youngster's work-rate, added speed, and goalscoring knack all perhaps giving him the advantage in Arteta's eyes, it is not a coincidence that Lacazette's return to the team unlocked the best in the attacking unit as a whole.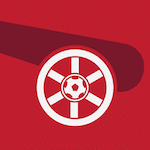 Want your voice heard? Join the Pain In The Arsenal team!
Write for us!
And yes, Lacazette has started games recently, but following his goal against Wolves at the weekend, this was a very different version. He was confident again. He strutted around the pitch, he held onto the ball with authority. He demanded passes into his feet and shrugged off pitiful attempted tackles by the Leicester defenders. And Lacazette at his best unlocks those around him.
This was Saka's best performance as a winger, too. Up until this point, his best performances have come deeper, where he is used in a press-resistant manner rather than a dangerous weapon in and around the penalty area. Aubameyang, too, got his customary goal. In the first half alone, Arsenal had seven shots and six on target. It was a prolific offensive performance.
Next:
Arsenal Vs Leicester City: 5 things we learned
Lacazette did miss several opportunities, including one header that should have been converted. His finishing needs to improve. But his all-around play is crucial to Arsenal's collective attacking approach. He unlocks the front three, and the first half on Tuesday proves it.