Lucas Torreira is Mikel Arteta's 4-3-3 solution
Mikel Arteta wants to form his Arsenal team into a 4-3-3 system. However, he does not really have the personnel to do so. Here is how Lucas Torreira can be the solution.
Mikel Arteta hails from Pep Guardiola's coaching style at Manchester City. Ever since eventually settling on a specific formation, a 4-3-3 with two what Guardiola calls 'half-eights', the City head coach has never veered away from it. He has instilled a very clear and well-defined philosophy. It was believed that Arteta would want to implement the same system at Arsenal.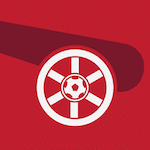 Want your voice heard? Join the Pain In The Arsenal team!
Write for us!
Thus far, that has not been the case. Arteta used a 4-3-3 against Manchester City following lockdown. He again used it against Brighton and flipped between a 4-3-3 and a 3-4-3 against Southampton. Since then, he has firmly settled on the latter shape, exclusively using a back three with wing-backs and two central midfielders.
More from Pain in the Arsenal
However, throughout this time, it is clear that Arteta would rather use a 4-3-3. That is his preferred system, and it is likely the shape that he will commit to long-term once he has the right personnel in place. This is most obvious at centre-back. Which of Arsenal's centre-backs would you feel comfortable playing in a pair? Not one. And that has largely been viewed as the motivation for Arteta to shift to a back three.
But, while that is very much likely a factor in his decision-making, it should also be noted that his options in central midfield are not best-suited to the inverted triangle that the 4-3-3 features. That is, until Lucas Torreira made his return to the team against Liverpool.
Prior to Wednesday's win over Liverpool, had Arteta been forced to field a 4-3-3, it would most likely have featured Granit Xhaka as the lone defensive midfielder at the base of the midfield. With Matteo Guendouzi jettisoned and Torreira unavailable due to injury, he is the only player in the squad who could even vaguely competently fulfil the demands of the role.
Xhaka, though, is extremely limited. He may have an exquisite passing range, but he does not show for the ball from the defence to help move play up the pitch, he is overly dependent on his left foot, which makes him very easy for opponents to press and ultimately dispossess, and he is extremely immobile. This last issue is the most pertinent.
In a double-pivot, Xhaka has another player alongside him to help stem passing lanes and break up play. As a lone holding player, he is on his own. He therefore has much more space to cover, something that he is invariably unable to do. Torreira, on the other hand, is exceptionally quick across the ground. He might not be the same progressive passer, but he certainly has the defensive nous and necessary athleticism to play as a lone midfield anchor.
Arteta has trusted Xhaka greatly since he arrived at Arsenal. But he has been hesitant to use him in a 4-3-3. In fact, the only time he did was against City. Xhaka played for two minutes, in a more advanced, left-sided central midfield role, before going off injured. The only times Arteta has used the formation is when Xhaka was unavailable. Quite simply, he does not fit the system.
Next:
Arsenal Vs Manchester City: 5 key players to watch
Perhaps, then, as Arteta turns his gaze to next season and the long-term project he is building at the Emirates, Torreira offers a more natural fit in central midfield and the chance to revert to the 4-3-3 that Arteta undoubtedly prefers.