Moving upwards as easy as ABC
Arsenal's 1-1 draw versus Leicester City felt more like a defeat, but hope is not lost in the slightest. Moving onwards and upwards is as easy as ABC.
There is nothing more frustrating than seeing your team not win a match they should have won. It makes anything besides three points feel like a crushing defeat, even when the team they drew to is third place in the Premier League and has the league's top scorer leading the charge. Despite all of the positives from Tuesday, Arsenal supporters can feel unhappy with the draw.
Nevertheless, this Gunners outfit is built of sterner stuff than previous North London sides, who have wilted under the pressure. They have some defining traits that make the difference between force and flop. Moving onwards, then, really is as easy as ABC.
A is for Arteta
Mikel Arteta is the first new quality, and it's clear to see why. Arsenal have conceded fewer goals, created more chances, have a higher expected goals and a lower expected goals against. The team have also ceased to be the draw-masters of the league under his command. No more are Arsenal on par with Newcastle United and Everton. The new head coach alone catapults the club's standards and expectations, and often the play, too, into 'Big Six' standing.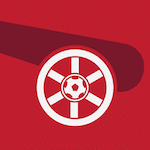 Want your voice heard? Join the Pain In The Arsenal team!
Write for us!
But more important than that is the players' faith in him. With the notable exception of a certain cantankerous Frenchman, the public support of Arteta at the club, from players and staff alike, is absolute. And you can see it in the way they play. Shouts of frustration and slumped shoulders have morphed into screams of joy and resolute effort seemingly overnight.
This is the first time in the last five years that many at the club can put their faith in one man with no pause for reconsideration or doubt. Arteta has rebooted the team. He has done a bang-up job with rejuvenation and renovations, and there's no room to rethink because he's the man for the job.