Obvious reason to be patient with Bernd Leno
Bernd Leno is recovering 'very well' from a right knee injury and could return to full training before the end of the season. Arsenal, though, have a very obvious reason to be patient with the German's return.
When Bernd Leno crumpled following a late challenge by Neal Maupay a few weeks ago, his knee bending backwards as his weight crashed through his lower joint upon his landing, it seemed as the Arsenal goalkeeper was set for an extended period on the sidelines.
However, after undergoing tests in the following days, it was announced that Leno had escaped major injury and would only be out for several weeks, perhaps as long as two months, and may even be fit for the start of next season. And now, there is more good news.
More from Pain in the Arsenal
In Arsenal's usual team news update ahead of the weekend's North London Derby, the club announced that Leno is recovering 'very well' from his right knee injury and could return to full training before the end of the current season, which is less than three weeks away.
In an official statement, the club said:
"Right knee. Sustained moderate ligament sprain during Brighton & Hove (a) on June 20. Progressing very well in recovery. Aiming to return to full training before the end of the season."
Of course, for Leno, this is terrific news and it bodes well for his prospects next season given that he should now be able to train throughout the summer and maintain match-fitness in preparation for the new season, which is rumoured to commence in September.
For Arsenal, though, there is no need to rush the German back into the team, however important he has been to their performances this season. And there is one, very obvious reason for that: Emiliano Martinez.
In Leno's stead, Martinez has been excellent. His shot-stopping has been excellent, his distribution is more accurate than Leno's, especially when looking longer and into the midfield, and he has a strong command of his penalty area, something that is often a major weakness of goalkeepers with limited first-team experience at the highest level.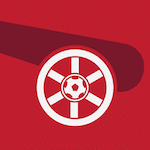 Want your voice heard? Join the Pain In The Arsenal team!
Write for us!
Mikel Arteta has been hugely impressed with Martinez's performances, as he said in a press conference last week:
"As I said before, his preparation and his attitude has always been spot on. He's been very respectful and very patient and now that he has the opportunity, he is grabbing it."
There have even been suggestions that Martinez could yet challenge Leno for the long-term starting role. Leno has been sensational during his two years at the club, improving with every passing month, and Arteta certainly never seemed unsettled with his starting goalkeeper. But that the conversation is even taking place illustrates how well Martinez has performed.
Next:
Arsenal Vs Spurs: Predicted starting XI
Leno, then, should focus on returning to full fitness. Right now, Arsenal don't really need him. Both he and the club should take advantage of that, leaning on the excellent Martinez to lead the team through the remainder of the season.