Why Mikel Arteta will abandon the 3-4-3
In recent matches, Arsenal head coach Mikel Arteta has implemented a 3-4-3 shape with relative success. However, with next season looming, here is why he will abandon the shape.
The 4-3-3 has become synonymous with the modern Manchester City way of playing. While Pep Guardiola initially experimented with his shape when he first arrived at City and has since used a false-nine or even a 4-4-2 at times, as against Real Madrid in the Champions League, for the most part, the 4-3-3 has been his go-to system.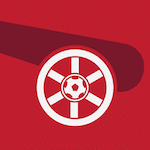 Want your voice heard? Join the Pain In The Arsenal team!
Mikel Arteta, however, Guardiola's former assistant and now Arsenal head coach, has used an explicit 4-3-3 just once, in a 2-1 loss to Brighton and Hove Albion. Even then, it featured Bukayo Saka in a left-sided central midfield role that at times resembled a 3-4-3 with the left-back, Sead Kolasinac, shifting into centre-back. Three days later, he used the 3-4-3 and has stuck with it ever since.
More from Pain in the Arsenal
This 3-4-3 shape has served Arsenal relatively well. It helps provide added defensive stability to a centre-back group that is lacking in confident, reliable options, while also releasing the front three with greater freedom to move throughout the pitch due to lesser defensive responsibilities. When playing on the counter-attack, it works especially well.
But while the Gunners have achieved success in this system, it very much feels like a short-term fix, one that Arteta will abandon once he has the players in place to revert back to a 4-3-3 or 4-2-3-1. Speaking with Sky Sports this week, Arteta revealed that the formation was largely driven by the need for results:
"In order to build, you need to win, and we had to find a way to give a little bit more stability and be a little bit more unpredictable with what we wanted to do. We found a different formation that I believed could suit us, and it did, in terms of results."
Expect to see the 3-4-3 rolled out until the end of the season, especially in the FA Cup final against a cohesive Chelsea team that may use start three centre-backs. But beyond that, it would be surprising to see Arteta go against everything that he has known, both as a player — he almost exclusively played in back-four-based systems throughout his career — and as an assistant coach under Guardiola.
That, of course, does not mean that the 3-4-3 will never be seen again. Arteta ceded that tactical versatility is important:
"We want to have versatility. We will be more difficult to control if we are able to master two or three different formations without driving the players crazy. Always with the same principles, but being able to change system, and to attack and defend in different ways."
But the need to get results, driven by a desperation to achieve European football, either via the Premier League or FA Cup, will not be so great at the start of next season. Winning football matches is important, yes, but Arteta will have more time to embed a style and system that builds the foundations of the team. He can take a more long-term approaching to assembling a cohesive team, not just focusing on winning the immediate match in front of him.
Next:
Arsenal Vs Watford: 5 key players to watch
The 3-4-3 is a means to an end. Just as it was for Arsene Wenger when Arsenal last won the FA Cup, it is designed to win matches in the here and now. But with next season looming, expect to see Arteta evolve.