Mikel Arteta emptying the midfield out of necessity
One of the strange tactical wrinkles of Mikel Arteta's system has been to empty Arsenal's central midfield and play down either flank. However, as his recent comments suggest, such a choice is forced due to the personnel he has available.
Under Pep Guardiola, Manchester City build through and dominate by the superiority and control of their central midfield. Kevin de Bruyne and David Silva orchestrate games, while Rodri, Fernandinho or Ilkay Gundogan dictate play from the base of the midfield, sitting in front of the back four.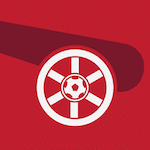 Want your voice heard? Join the Pain In The Arsenal team!
Mikel Arteta, steeped in this system and approach, was expected to implement a similar style at Arsenal. Arteta was also a midfielder himself. At Arsenal, he played as a defensive midfielder, dictating play as the metronomic anchor. He also played under Arsene Wenger, another manager who extolled the importance of midfield dominance.
More from Pain in the Arsenal
So then, it has been surprising to see Arteta largely veer away from central midfield control and look to dominate games in wide areas. When he first used the 4-2-3-1 shape, he shifted Granit Xhaka into a pseudo-left-back role, leaving just one holding player in the middle of the pitch. He then implemented a 4-3-3, arguably his most natural formation, but instructed Bukayo Saka to drift to the left flank, again emptying the midfield. And more recently, Arteta has used a 3-4-3 shape, a formation known for its weakness in midfield but strength in wide areas.
If you thought that this is weird and highly unexpected, you would be correct. Everything that we know about Arteta says that he would like to dominate central midfield. And yet, at Arsenal, every tactical decision he has made thus far seems to suggest the opposite. Instead of crowding central areas, he empties them. However, speaking this week with Sky Sports, Arteta's highlighting of the midfield players who have left the club perhaps provides a hint at the motivation behind his midfield management:
"Look at the players that we had in the past at this club in those positions. You go back to (Santi) Cazorla, to (Tomas) Rosicky, to (Andrey) Arshavin when he played there, to (Aaron) Ramsey when he played there, to (Henrikh) Mkhitaryan when he came in. Even Jack Wilshere used to play in those pockets all the time. That is a lot of players who are now not here. We have to renew that cycle, because if not, those kind of players won't be there for us anymore."
In the same interview, Arteta commented on the need to gain results as the reason why he uses the 3-4-3 shape. He also stated that Dani Ceballos, who has largely started in a deeper role alongside Xhaka, can play further up the pitch but that he is currently needed in a more conservative position as a result of the other options in the squad. While he does not say so explicitly, it is quite clear that Arteta is hamstrung by his midfield options.
This inference is only compounded by Arsenal's transfer interest. Arteta wants a central midfielder, someone who can break up play but also instigate attacks. The Gunners' longstanding interest in Thomas Partey shows that they have identified central midfield as a position of need. Put simply, Arteta has emptied the midfield because the personnel currently available is not sufficient, and he and the club know it.
Next:
Arsenal Vs Watford: Predicted starting XI
The tactical wrinkle that Arteta has employed, irrespective of the system, since his arrival is not likely to stay. It is out of necessity, a necessity that, in theory, will no longer be an issue following the summer transfer window.