3 reasons Granit Xhaka is not the future
Granit Xhaka has enjoyed a wonderful resurgence in form under Mikel Arteta. But he should not be considered a part of the future of the Arsenal team. Here are three reasons why.
Granit Xhaka was signed almost four years ago in a £35 million deal. He was billed as a hard-nosed, technically gifted central midfielder who would finally provide Arsenal with that bite, brawn and control that they have missed ever since Patrick Vieira departed all those years ago. Those qualities never really came. Xhaka was certainly more effective than his fiercest detractors would have you believe and he is a capable Premier League midfielder, but his issues have been extensive, and even despite a terrific resurgence under Mikel Arteta, he is should not be considered a part of the Gunners' future.
Here are three reasons why.
3. He is targetted by opposing pressures
A high-pressing defensive strategy used to be something that only the best teams would implement. It is a risky approach as it leaves space in defensive areas and can expose the centre-backs on the counter-attack. As a result, lesser teams used to sit back and compact the space in their own defensive third, rather than leaving their defenders with ample space to try and defend.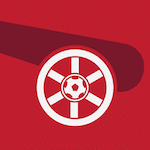 Want your voice heard? Join the Pain In The Arsenal team!
Write for us!
However, more recently, even 'lesser' teams have recognised the need to come out of their shell. Defending deep for 90 minutes and relying last-ditch interventions is an unsustainable approach. It might work every now and then, but across an entire season, it often falls short. And so, teams have adapted their strategies, even choosing to press the superior teams, recongnising that even the best players struggle under pressure. And when these teams press Arsenal, Granit Xhaka is often the target.
Xhaka is extremely poor at receiving the ball under pressure. He panics, he plays hurried passes that are poor decisions and often turnover possession, he is overly dependent on his left foot and so is easy to shepherd away, and he is a cumbersome dribbler, such that he struggles to wriggle clear of pressure. In modern football, every player must be comfortable at receiving the ball under pressure. Opponents have cottoned onto his vulnerability and they target it. And that is crippling for Arsenal's playing out from the back.