Bukayo Saka rewriting the utility player narrative
Arsenal have a not-so-proud history of disgruntled utility players who fall by the wayside. Bukayo Saka, though, is completely rewriting that narrative.
When Alex Oxlade-Chamberlain left Arsenal for Liverpool to the tune of £35 million, he cited misuse and lack of playing time as the reasons for his dissatisfaction. His points had merit. Arsene Wenger used him in the true definition of a utility player — wherever possible.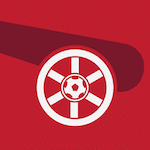 Want your voice heard? Join the Pain In The Arsenal team!
Write for us!
During his time in North London, the Englishman played at right-back, left and right-wing-back, in central midfield, at the number 10 role, off both wings, and, in one rather misguided venture, as a central striker. He wanted consistency, but he never received it.
But to make matters worse, the position where he wanted to play — central midfield — was where he received the least praise. In an interview with Ian Wright, Oxlade-Chamberlain cited a number of reasons for leaving:
"I just didn't believe I was going to be able to play where I wanted to play and that was it. I feel a lot of my best performances for Arsenal came in midfield but I never played consistently in that position."
He moved to Merseyside to get more playing time in the position he wanted to play. Since he has arrived, barring injury, he has received exactly that.
This, of course, is the downfall of the utility player. Versatility has its drawbacks, especially when it comes to advancing one's career at a preferred position. It is something Ainsley Maitland-Niles knows all too well.
Maitland-Niles picked up the utility-player mantle almost as soon as Oxlade-Chamberlain dropped it. Like his predecessor, the 22-year-old prefers to play in the midfield but has found a majority of his time at the wing-back position. His best performances have come at right-back and at either wing-back, including a dominating performance against Manchester City in the FA Cup semi-final last weekend at left wing-back.
And like Oxlade-Chamberlain, he has demonstrated a measure of patience with playing out of position. But rumours have begun to circle that Maitland-Niles is tiring of being a utility player. He wants consistency, to play where he feels he is at his best.
More from Pain in the Arsenal
But where Bukayo Saka comes into the picture, the pattern formed by his predecessors begins to crumble. Despite the five positions Saka has played this season — left-back, left wing-back, central midfield, left-wing, and right-wing — he is no mere utility player.
Unlike those who have come before, he has actually surpassed the utility label. Instead of making a name for himself through versatility, his accolades come from a series of stunning performances, they just happen to have come in different positions. He's a Player of the Year contender, leads the team in assists, has just signed a new contract, and was recently awarded the number seven shirt for next season, a bold yet completely justified step for the 18-year-old.
And unlike other Arsenal utility players throughout history, Saka has not taken a background role in the squad. His skills, energy, and earnest intensity have earned him the nickname 'Little Chili,' and it shows in his approach to the game. He has forced his way back into the starting line-up time and time again, proving that the team is far better with him than without. He may be versatile, but he has made himself indispensable.
And for that reason, Mikel Arteta rarely uses him as a substitute in smaller games. Instead, he regularly features as an impact player in the bigger ones. He has also risen significantly above his station this season, playing far more games than should be expected of him. His 38 appearances are the seventh highest in the entire squad and the same number as Alexandre Lacazette.
His goal contributions are greater than every utility player before him. Four goals and 10 assists in all competitions is some going. Most pertinently, though, is that he has tallied at least two goal contributions at each of those positions. He is a revelation all across the pitch.
Saka also doesn't seem to suffer the same lapses in form from week to week, despite being popped in and out of the squad. He is the same steady, sharp, invigorating presence regardless of where he plays, and his all-encompassing performances are a credit to his consistency. Part of that comes down to youth and energy, but it also stems from his character and commitment.
Saka is in the process of entirely rewriting the utility player narrative, and it's a change that needs to happen. Arsenal have a habit of losing players because they misuse them, prioritising their versatility over their career paths. It often stalls their progress.
Oxlade-Chamberlain felt suffocated by that narrative. In an interview with Sky Sports, he said that he felt stifled, unable to progress and move forward with his career:
"I just felt like I really wanted to push on with my career and it felt like now was the right time to take myself out of my comfort zone, push myself and go and see what I can really achieve with a team like Liverpool."
Next:
Arsenal Vs Watford: 5 things we learned
Saka, though, flourishes as a result of it. Where Maitland-Niles and Chamberlain were hamstrung by their versatility, Saka is freed by it. He is brilliant in every position he plays; his brilliance does not hail from his versatility. He is rewriting the utility narrative, and it leaves Arsenal with one of the brightest young talents in world football.