Edmond Tapsoba shows his potential and flaws
Arsenal target Edmond Tapsoba started for Bayer Leverkusen versys Bayern Munich on Saturday. He again showed his potential, while also portraying a key flaw.
Arsenal's greatest need this summer is centre-back. Others will highlight central midfield, others still will question the frontline if Pierre-Emerick Aubameyang and/or Alexandre Lacazette departs this summer. But based on the performance this season, it is no contest: the Gunners need a new centre-back pairing.
William Saliba will arrive in the summer after his loan spell at Saint-Etienne. Signed for £26 million last year, the young Frenchman is expected to slot straight into the starting XI from the off. But Saliba needs a long-term partner. One name that has surfaced as a potential solution is Bayer Leverkusen's Edmond Tapsoba.
More from Pain in the Arsenal
The young defender has emerged since the turn of the year as a calm, composed, athletic centre-back in a league full of them. While Dayot Upamecano is the big name that attracts attention, Tapsoba has been performed superbly over the past few months, emerging as a key piece in an exciting Bayer Leverkusen team.
On Saturday, Tapsoba and Leverkusen took on Bayern Munich, the unquestioned elite team in the division. With Arsenal linked with a move for Tapsoba, I watched him closely throughout the match. For the most part, I was very impressed and there is definitely an intriguing skill set that could comprise a high-level centre-back in the future, but there was one crucial flaw: ill-discipline.
Let's start with the positives. Tapsoba is supremely calm. In and out of possession, he does not panic. He is more than willing to receive the ball under pressure and then has the quality to play out. When defending, he does not dive into challenges, he holds his ground, backs his pace when players look to drive beyond him, and patiently waits to win a loose ball. He is rarely beaten as a result.
https://www.youtube.com/watch?v=hbn00PB2AP0
Tapsoba's distribution is sensational. It has been all season and he was the only Leverkusen player who looked comfortable in dealing with Bayern's suffocating high press. He routinely made correct decisions, sliding reverse passes into midfield to move his team out of the defensive third, and he recognised how to create angles for those on the ball.
However, while the natural tools of a high-level centre-back are evident, Tapsoba's positioning was victimised by Bayern. There were several occasions where he would wander out of his centre-back role and Munich were close to scything in behind as a result. To illustrate the point, however, watch the second goal.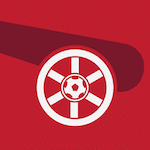 Want your voice heard? Join the Pain In The Arsenal team!
Write for us!
It starts with Bayern breaking forward. Thomas Muller receives the ball midway in Leverkusen's half and Tapsoba pushes up to meet him so that he cannot turn. Given the circumstances, that was his first wrong decision. He should have remained more conservative in his positioning. Muller lays the ball off and then moves beyond Tapsoba. The ball is then played forwards again, Kingsley Coman lays it off to Muller, who has now broken clear of Tapsoba, and his first-time pass provides Leon Goretzka with the chance to shoot and score.
This was not the only time that Tapsoba meandered out of his defensive role. He did it on a number of occasions. While that is problematic, what was worse was the lack of urgency he showed in trying to recover his position. There was none, as if he did not sense the looming danger and cared not for the position he had vacated. As Arsenal fans know, wandering centre-halves are not good defenders.
Next:
Arsenal: 3 reasons Partey-Lacazette swap a smart deal
Tapsoba only turned 21 in February. He has played just 76 senior appearances in his career and this was just his 11th Bundesliga appearance this season. He is still learning his trade. Nevertheless, if Arsenal are to sign him this summer and partner him with Saliba, they will have to coach him hard. As his performance against Bayern illustrated, he has great potential, but he has a major flaw.