Should Pierre-Emerick Aubameyang contract be a priority?
Arsenal have reportedly made signing Pierre-Emerick Aubameyang to a new contract a priority this summer. But should that be their number one goal?
Arsenal have many decisions to make this summer. With Mikel Arteta entering his first major transfer window as head coach and the team looking to rebuild under him following on from the disastrous end to Unai Emery's tenure, there is a sense of heightened importance with every move that is made. The Gunners must start the Arteta project well.
Oftentimes, making the right decisions comes down to having the right priorities. This is especially true in the current climate where finances are tight. Arsenal cannot afford to take a costly misstep. Perhaps the most impactful decision the club must make this summer revolves around the future of club captain, top goalscorer, and the elite outfield player in the squad, Pierre-Emerick Aubameyang.
More from Pain in the Arsenal
Soon to be 31 and with a year remaining on his contract, Aubameyang presents a serious conundrum, one which does not have a sensible or easy solution. In fact, in this instance, whatever avenue the club decides to venture, there will be plenty of cause for criticism.
There are four broad ways that Aubameyang's future will end: he will remain with the club and sign a new contract; he will remain with the club and leave for free next season; he will be sold for a high price; he will be sold for a low price. None of them is remotely close to perfect.
However, this week, The Telegraph reported that the club's priority is to sign Aubameyang to a new deal. They believe that their strong relationship with his father and representative, Pierre-Francois, will help in negotiations. Meanwhile, Aubameyang is said to be enjoying life under Arteta, while Arteta has said quite plainly that he would like to keep the striker and sign him to a new contract. But is this really the wisest priority?
Yes, losing a player of Aubameyang's quality would be a massive detriment to a team that is almost solely relied upon him this season, but given the wages that will be required to keep him, the financial situation of the club, and the age at which he will play out this contract, it hardly seems like a sensible investment at present. In fact, it is rather outlandish, especially considering the current trajectory of the team.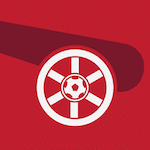 Want your voice heard? Join the Pain In The Arsenal team!
Write for us!
Despite recent improvements under Arteta, Arsenal will not be competitive for at least another two seasons. By that point, Aubameyang will be 33. For a player who leans heavily on his speed and superb off-ball movement, age is a significant factor that could see his impact diminish more sharply than others.
It would not be wise to be stuck with an ageing player on a massive contract who is not producing as their wages demand and cannot be offloaded because no one will pay? Just ask Arsenal if they would offer Mesut Ozil the same contract they did knowing what they know now.
Next:
Arsenal: 5 questions Mikel Arteta must answer
Aubameyang is a sensational player and losing him is far from ideal. But signing him to a bumper new contract would be even worse. That this is the club's priority, then, is even more disconcerting.